Post by DANNIMARIE on Oct 16, 2013 12:31:06 GMT -6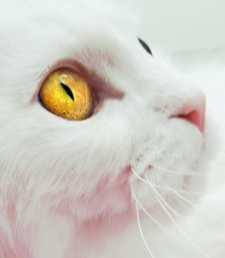 NAME: Winterstar
AGE: 60 moons
GENDER: Queen
CLAN: ShadowClan
RANK: Leader

APPEARANCE: White cat with golden eyes.

PERSONALITY:

( DETERMINED ) She is determined and is used to getting her way. She tends To be narrow minded when she has a task that she wants to accomplish. When she gets her way, though, she tends to be in a grand mood afterward.

( PASSIONATE ) She is passionate about what she believes, though love is something she avoids at all costs. She fears getting hurt by letting someone in and so does not trust very openly. Even her clan she looks upon with somewhat untrusting eyes.

( DECEIVING ) She has a deceiving side of her and tends to avoid showing it even though once she does it is hard to forget. She would quickly leave an ally's side if she believed it would better her, even in the middle of a battle.

( COLD ) She is cold, and has the ability to block out emotions in most scenarios. She doesn't have too much of a soft spot, and so can be firm with most things. She is somewhat kinder toward younger cats, but can be known to be rather.. harsh.

HISTORY:
THIS IS THE STORY OF A GIRL
She was born to Morningflower and Goldengaze of ShadowClan 60 moons ago. She was the youngest kit in the nursery for several moons because she was born during the beginning of one of the harshest winters that the cats had seen in a long time. Because of her white pelt, she was named Winterkit, for the terrible winter that raged on for moons. She was the only kit to survive, their names had been Midnightkit and Graykit.

WHO CRIED A RIVER
When she became six moons old, the lone kit moved to the rank of apprentice. Winterpaw was assigned to Shrewclaw. She trained hard and learned quickly, but her life was not just about training. When she turned ten moons old, she became friends with a deceiving tom by the name of Mousetail. He was a warrior, and the two of them became good friends. She fell for him, but he was all ready chasing another she-cat.

AND DROWNED THE WHOLE WORLD
When she became a warrior, she was tricked into having kits. She was the youngest warrior to have kits in the clan, announcing that she was going to have kits the day after she became a warrior. The tom left her and became mates with another she-cat, leaving Winterstar cold and darkened to the world. Ever since, she became cold and heartless toward him and untrusting. but deep down she still loved him.

Her kits were born during greenleaf. They are now 44 moons old. The kits names are Morningpetal, Snowfeather, and Whitepelt. She never told them who their father was, and so they still do not know to this day.

AND WHILE SHE LOOKED SO SAD
Winterstorm was a strong cat, and by the time she was thirty-two moons old, she was made deputy. The previous leader, Redstar, decided that she was ready, and she was excited to finally accomplish such a major goal. She had wanted to be deputy for a long time, and was very happy to finally be made deputy. Her time as deputy was uneventful, no major wars, the clan did well against foxes and badgers, many avoided the clan's territory in general, and so no one ended up lost or hurt in any extreme ways.


IN PHOTOGRAPHS I ABSOLUTELY
Winterstorm became Winterstar when she was fifty moons old, the old leader passing from his final life. He had lead the clan well and taught her well. Since she has lost one life to a fox attack, which happened a moon ago, she is still recovering from the wounds.